FAQ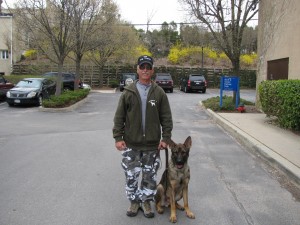 FAQ
How much do your services cost ?
Every dog is unique, so I don't offer a One Size Fits All Doggy Package. The amount of training for each dog is different. Several factors are taken into account – your dog's age, your dog's breed, it's temperament and your specific situation. I have over 30 years of experience training dogs.
When you truly evaluate the cost, wouldn't you rather train your dog correctly from the beginning and have a strong owner-dog relationship. You will realize my small fee is a true value. Who can really put a price on a lasting friendship.
Also locations outside of my regular areas may incur a travel fee.
Please call me for a specific price, I would be glad to answer any questions.
(516) 770 – 1025
How long will the training take ?
In general, I recommend six to ten – one hour dog training lessons with exercises for you and your dog in-between. I will come to your home and train your dog along with training you, the owner. I teach you to become the leader to the dog.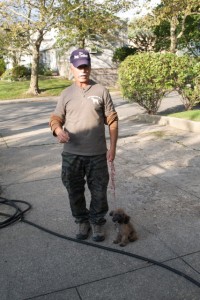 Do I have to sign a contract ?
Over the years, I have learned that in my business a contract does not help train your dog. My relationship with the dog owner is built on trust. At this time, I do not tie you down to a commitment. I will recommend a certain course of action and we will come to an agreement. I will always honor my agreements and train the dog accordingly.
What results and benefits can I expect ?
You can expect a happier and healthier pet. Also a happier more peaceful home. Once the dog gets who is the leader is in charge, everything changes in the house. You will be AMAZED at the results, the whole dynamics change.
The Long Island Dog Trainer – Barry Stewart Have Leash, Will Train Approach will help you develop a stronger owner-dog relationship built on trust and mutual respect with you as the Leader of the Pack. You will learn to have the confidence to control your dog in any situation and your dog will learn to trust your authority unconditionally.
What makes your service unique ?
I have over thirty years of experience dog training. I have trained dogs that went to work in Vietnam. Why would you trust the training of your beloved dog to someone that received their training from the store manager of a corporate pet store.
What I offer is a personal one-on-one dog training service. I train the dog in it's actual living environment not in the back of store on a soiled rug. I come to your house, I work with your dog, I work with the owner. I have to work with the owners. If I only work with the dog, the dog will only be trained for me.
I teach the owners to be the Leader of The Pack, which is the most important thing that I could possible do for you.
Bottom line is – I want you to be happy. I want your dog to do great. Why? Because if your happy, you will refer me to your friends. And I want you to refer me to your friends. My business is based on good referrals.
Does this sound like the kind of dog training service you are looking for?
Call me I want to make you happy (516) 770 – 1025
My Approach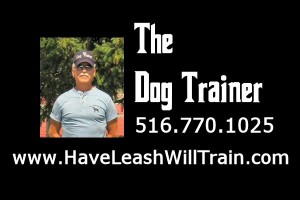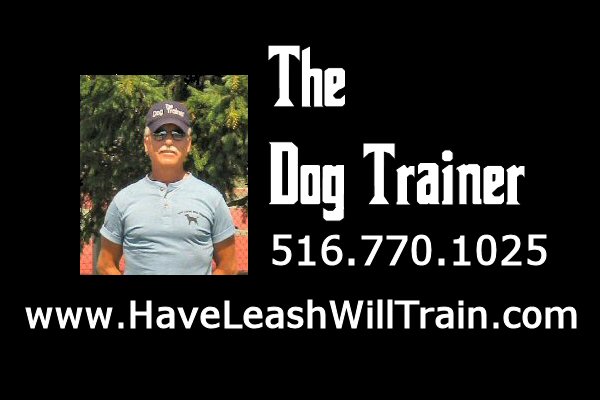 Their crate a second home:
A crate provides a place to sleep, a place to be safe when you are not around and a useful tool for house training.
Meet Barry Stewart
Dog-isms
"The dog represents all that is best in man"
Etienne Charlet

Barry Stewart aka "The Dog Trainer" has been recognized as one of the best NY dog trainers, based on his experience, professionalism, and ethics. Have Leash Will Train, Inc. provides expert dog training services from the South Shore to the North Shore of Nassau County, Suffolk County and now Manhattan – with happy dog owners and wagging tails in Bayville, Manhasset, Merrick, Port Washington, Bellmore, Woodmere, Babylon, Cold Spring Harbor, Commack, Dix Hills, Garden City, Jericho, Long Beach, East Norwich, Woodbury, Oyster Bay and more on Long Island.
See All The Long Island Towns We Provide Dog Training Service
If you are looking for an experienced, gentle and reliable dog trainer,
call for AMAZING RESULTS! (516) 770 – 1025,
speak to Barry. I am confident you will be satisfied with our professional service.
[contact-form to='haveleashwilltrain@yahoo.com' subject='Online Form from FAQ Page'][contact-field label='Name' type='name' required='1'/][contact-field label='Phone' type='text' required='1'/][/contact-form]