Have Leash Will Train Approach
Have Leash Will Train Approach
A family is only as happy as their happiest and well behaved pet. Barry Stewart – The Long Island Dog Trainer has a special rapport with dogs and possesses an uncanny ability to establish leadership over the dog. Your dog will learn to be happy with its place as a member of your family. This can only be accomplished in and around your home.
Leader of The Pack
In the wild, dogs run in packs. Instinctively, all dogs find their place in the pack and follow the pack leader. If you don't play the role of Alpha Dog (Pack Leader), your dog will believe the role is vacant. Your dog is not living in the wild with a pack of dogs. It is living in human society, an unnatural environment with complicated rules and distractions. You are the interpreter, teacher, provider and authority to your dog. In the dog relationship, you must play the role of the Leader of the Pack. In fact, after establishing yourself as the dominant leader not through brute force rather by consistent teaching, exercise and discipline, your dog will know its role as member of your family. Through your consistent actions, your relationship will change from one of mixed signals to one of respect. Your dog will trust your authority and be relieved of the burden of deciphering this strange world.
Training the dog will take discipline and consistency remembering to be Calm But Firm.
Being The Pack Leader
Learning to be the leader of the pack requires consistency. Your dog will need exercise, discipline and praise. Your dog should receive consistent discipline for unwanted behavior, not through brute force or violence (NEVER hit your dog) but through gestures, verbal tone and persistent clear instruction. happy client's dog In the beginning, your dog will explore your limit, if you are consistent, your dog will find its place and be comfortable knowing what is the role it plays in your pack.
A New Relationship
The Have Leash, Will Train Approach will help unlock your dog's full potential. There is so much pleasure to be had with a well-behaved friendly dog. Quite frankly, you will be AMAZED by the results! call today for a better tomorrow (516) 770 – 1025, speak to Barry Stewart – The Long Island Dog Trainer. I am confident you will be satisfied with our professional service.
My Approach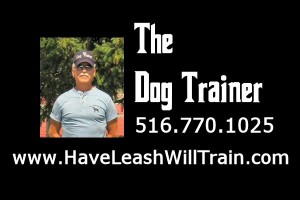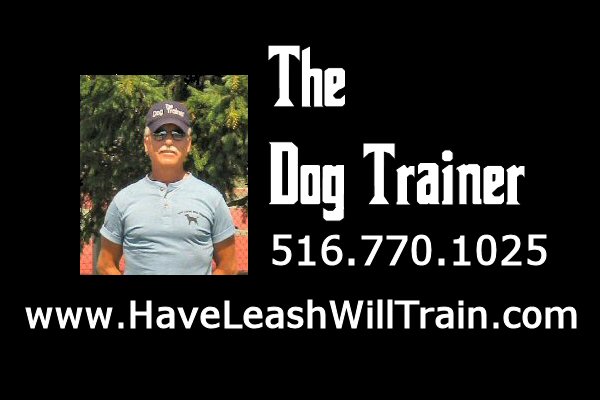 Exercise, Discipline & Praise: Next to feeding your dog, exercise is the most important thing for a healthy pet. Your backyard is not enough, they need to be walked properly. Discipline as needed and praise when deserved.
Offered Services
Meet Barry Stewart
Dog-isms "They never talk about themselves,But listen to you while you talk about yourself And keep up an appearance of being interested in the conversation"
Jerome K Jerome

Expert In-Home Dog Training by

Military Certified

Barry Stewart
Barry Stewart – The Long Island Dog Trainer has been recognized as one of the best NY dog trainers, based on his experience, professionalism, and ethics. Have Leash Will Train, Inc. provides expert dog training services from the South Shore to the North Shore of Nassau County, Suffolk County and now Manhattan – with happy dog owners and wagging tails in Bayville, Manhasset, Merrick, Port Washington, Bellmore, Woodmere, Babylon, Cold Spring Harbor, Commack, Dix Hills, Garden City, Jericho, Long Beach, East Norwich, Woodbury, Oyster Bay and more on Long Island. See All The Long Island Towns We Provide Dog Training Service If you are looking for an experienced, gentle and reliable dog trainer, call for AMAZING RESULTS! (516) 770 – 1025, speak to Barry. I am confident you will be satisfied with our professional service. [contact-form to='haveleashwilltrain@yahoo.com' subject='Online Form from Approach Page'][contact-field label='Name' type='name' required='1'/][contact-field label='Phone' type='text' required='1'/][/contact-form]