Dog Training For Your Rescued Dog
Expert rescued dog training for owners that want a better relationship with their dogs. Barry Stewart The Long Island Dog Trainer works with you and your dog in your home environment.
Dogs are social creatures and instinctively seek to find their place in the pack. Your dog will learn to love performing your commands, acknowledging that you are in charge. Barry Stewart's "Have Leash, Will Train" technique will train your dog to obey the Pack Leader and Barry will teach you and your family to be the Leader of the Pack. Instincts will kick in, your dog will learn to please you with good behavior.
Special Dogs / Rescued Animals
Adopting a dog from the dog pound or shelter is a very honorable undertaking. Animal shelters are filled with beautiful dogs. Many of these dogs have been abused, misunderstood, have behavior issues and bad habits. A majority of these dogs must learn to trust humans again. There is a good dog in there begging to come out and be happy.
Barry's "Have Leash, Will Train" approach will teach the dog he is accepted into this new pack. Now he must trust and respect his new pack leader. You will feel confident with your new trained, well-behaved dog.
When your friends compliment your dog you will proudly beam, "I got him at the pound and Barry The Dog Trainer trained him".
Call me today (516) 770 – 1025
My Approach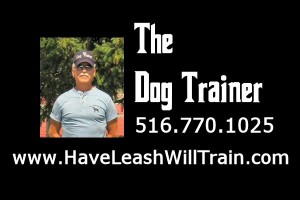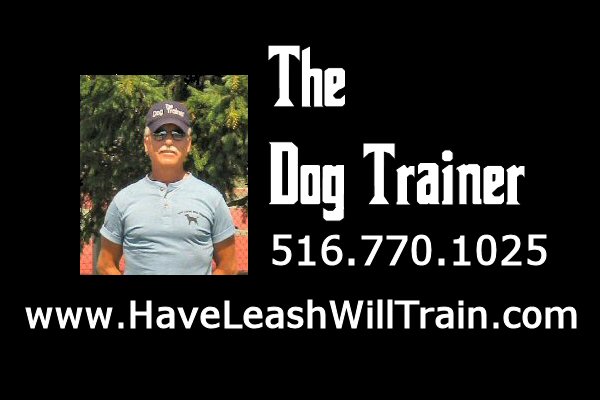 Be the Pack Leader:
Dogs are pack animals, and like all pack animals they need a Pack Leader. My training allows the owner to become the pack leader.
Meet Barry Stewart
Dog-isms
"Saving just one dog won't save the world ….. but surely it will save the world …… for that one dog"
Unknown

Expert In-Home Dog Training by

Military Certified

Barry Stewart
Barry Stewart aka "The Dog Trainer" has been recognized as one of the best NY dog trainers, based on his experience, professionalism, and ethics. Have Leash Will Train, Inc. provides expert dog training services from the South Shore to the North Shore of Nassau County, Suffolk County and now Manhattan – with happy dog owners and wagging tails in Bayville, Manhasset, Merrick, Port Washington, Bellmore, Woodmere, Babylon, Cold Spring Harbor, Commack, Dix Hills, Garden City, Jericho, Long Beach, East Norwich, Woodbury, Oyster Bay and more on Long Island.
See All The Long Island Towns We Provide Dog Training Service
If you are looking for an experienced, gentle and reliable dog trainer,
call for AMAZING RESULTS! (516) 770 – 1025,
speak to Barry. I am confident you will be satisfied with our professional service.
[contact-form to='haveleashwilltrain@yahoo.com' subject='Online Form from Rescued Dog Training'][contact-field label='Name' type='name' required='1'/][contact-field label='Phone' type='text' required='1'/][/contact-form]