About Us
About – Have Leash Will Train
Please read the following comments so you can be a little more informed about us. Barry Stewart – The Long Island Dog Trainer offers dog training with a distinct difference, by using the dog's innate pack mentality.
"When I was fourteen years old", tells Barry Stewart of Have Leash Will Train, Inc. "I had a neighbor that owned a puppy store I worked at. I fell in love. Early on, I knew dogs would be a big part of my life."
"I started to learn to train puppies there. And I started to learn how to groom there also. I wasn't much of an artist and I realized I wasn't going to be a good groomer but I noticed I had an ability to communicate with dogs. Training was my thing and I loved it."
U.S. Military Trained Specialist in the Art of Dog Handling
"When I went into the army, I chose the K-9 Corp. The dogs I trained in Okinawa in the early seventies were sent to Vietnam. Realistically, dogs trained for field work must first receive and excel in obedience training. They must know obedience on and off the leash. My dogs were trained to follow commands and to completely trust the handler's judgment."
The Dog Trainer adds, "After my military experience, I began training with one of the best dog trainers in the field, where I learned to combine my special talents, my military training, new techniques and unique exercises to create my own particular style."
"By the late seventies, (yes, I said late seventies) The Have Leash, Will Train seed was planted. Through the eighties and nineties, my Have Leash, Will Train grew from sapling to a young tree. Now we are well into the new millennium and Have Leash, Will Train has become a strong mature tree with deep roots and large spreading branches."
"Proper training and breaking bad habits usually takes them six to ten lessons," Barry comments. Adding, "I can help housebreak dogs and crate-training, as well as offer obedience training using verbal and hand signal commands."
Long Island Dog Trainer
"Just as with toddler children, I take puppies from terrible twos and turn them into well-behaved young dogs. I believe the training process should happen in a real environment – the dog's home. All dogs are pack animals, having evolved from wolves and all pack animals need a Pack Leader. My training tactics will ensure the owner becomes the Pack Leader"
Every dog can benefit from professional dog training.
Over the years Barry Stewart – The Long Island Dog Trainer has worked with every type of dog breed. Barry Stewart – The Long Island Dog Trainer is confident he can help you achieve the perfect relationship with your puppy or dog.
Call Barry Stewart TODAY and let's get started. (516) 770–1025

My Approach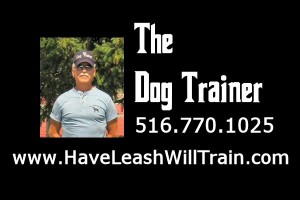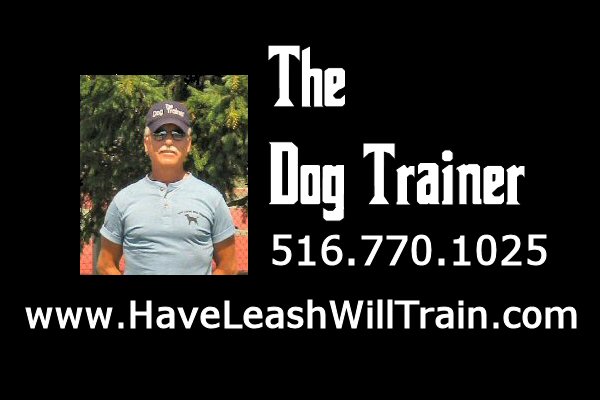 Be the Pack Leader:
Dogs are pack animals, and like all pack animals they need a Pack Leader. My training allows the owner to become the pack leader.
Meet Barry Stewart
Dog-isms
"If Heaven went by merit, you would stay out – And your dog would get in"
Mark Twain
Barry Stewart – The Dog Trainer has been recognized as one of the best NY dog trainers, based on his experience, professionalism, and ethics. Have Leash Will Train, Inc. will provide expert dog training services from the South Shore to the North Shore of Nassau County, Suffolk County and now Manhattan – with happy dog owners and wagging tails in Bayville, Manhasset, Merrick, Port Washington, Bellmore, Woodmere, Babylon, Cold Spring Harbor, Commack, Dix Hills, Garden City, Jericho, Long Beach, East Norwich, Woodbury, Oyster Bay and every other town on Long Island.
See All The Long Island Towns We Provide Dog Training Service
If you are looking for an experienced, gentle and reliable dog trainer in the NY area please call Barry Stewart – The Dog Trainer and receive AMAZING RESULTS!
(516) 770–1025 CALL NOW and speak with Barry Stewart personally. We are confident you will be completely satisfied with his professional service.
[contact-form to='haveleashwilltrain@yahoo.com' subject='Online Form from About Us'][contact-field label='Name' type='name' required='1'/][contact-field label='Phone' type='text' required='1'/][/contact-form]